NSL "Wraps Up" Holiday Season Food Drive, Donates 669 lbs of Goods to Island Harvest
NutraScience Labs "Wraps Up" Holiday Season Food Drive, Donates 669 Pounds of Goods to Island Harvest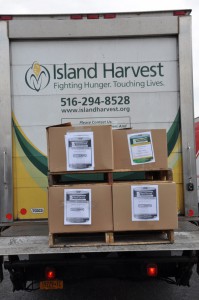 Items that were donated included canned foods and non-perishable items.
NutraScience Labs wrapped up its annual holiday season food drive earlier this month. Its employees collected and donated 669 pounds worth of canned food and non-perishable goods that will be distributed by Island Harvest to food pantries, soup kitchens or other non-profit organizations that offer feeding services to Long Island families throughout the holiday season.
"Hunger is an epidemic that can have a multitude of physical and psychological effects if not addressed such as impaired learning, permanent brain damage, behavioral issues, and a lack of stamina. This motivated us to help our fellow Long Islanders during the time of year that they need it the most," said Steve Rolfes, President of Contract Manufacturing for NutraScience Labs. Mr. Rolfes added, "When we started this event in the beginning of November, our goal was to collect 400 pounds worth of goods. The fact that we eclipsed it by over 67% speaks volumes about the benevolence and the overall character of our employees."
According to its website, Island Harvest is Long Island's largest hunger relief organization. Established in 1992 by Linda Breitstone, its mission has been to end hunger and food waste on Long Island. Since that time, it has delivered 71 million pounds of food, supplementing close to 66 million meals.
In addition to Island Harvest, NutraScience Labs raised funds and participated in events over the course of 2015 that benefited local and national charitable organizations such as Vitamin Angels, Long Island Children's Museum, Long Island Cares- The Harry Chapin Food Bank, Children's Medical Fund of New York, and the Nassau County Society for the Prevention of Cruelty to Animals (SPCA).