The Controversy Over Vinpocetine and Picamilon - What You Need To Know
Perhaps you have recently read or heard that Claire McCaskill, senior United States Senator from Missouri and the ranking member of the US Senate Special Committee on Aging, has called for the FDA to suspend sales of supplements containing the cognitive enhancers vinpocetine and picamilon, pending an investigation. If you're wondering what this is all about, read on.
Understanding Senator McCaskill's Position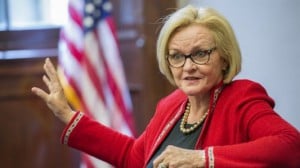 Senator Claire McCaskill of Missouri has asked the FDA to suspend sales of dietary supplement products containing vinpocetine and picamilon pending an investigation
According to Nutraingredients-USA.com1, the heart of Senator McCaskill's case hinges upon the fact that DSHEA explicitly prohibits the use of synthesized nutraceutical ingredients in dietary supplements. Despite the fact that the FDA granted vinpocetine status as a new dietary ingredient (NDI) back in the late 1990s, current studies suggest that the manufacturing process for vinpocetine is just as synthetic as the processed used for creating picamilon, which has never been granted NDI status by the FDA.
Along with the research dedicated to the synthesis of vinpocetine and picamilon, Senator MacCaskil has also directed FDA and consumer attention towards a study published by researchers from the National Center for Natural Products Research at the University of Mississippi and Cambridge Health Alliance / Harvard Medical School, which claims that for the 23 vinpocetine-containing supplements and the 31 picamilon-containing supplements that they tested, the amount of each ingredient within the supplements varied significantly – from no traces of the tested ingredient to levels that are ordinarily reserved for prescription medications only. Additionally, there were multiple instances where the total amounts of vinpocetine or picamilon present were not accurately reflected by a product's label.
Currently, the only FDA involvement in the issue has come in the form of five warning letters, which were sent out to the manufacturers of dietary supplement products containing picamilon. No federal action has been taken against picamilon at this time.
About Vinpocetine
Some studies suggest that vinpocetine supports cognitive function due to the fact that it enhances cerebral blood flow2,3. Natural Medicines Comprehensive Database discusses its possible safety when used orally and appropriately, stating that "No significant adverse effects were reported in studies of people with Alzheimer's disease or organic brain syndrome treated with large doses of vinpocetine (60 mg per day) for one year."4
About Picamilon
Picamilon, a synthetic combination of niacin and GABA, is said to cross the blood-brain barrier5 where it is then broken down into is two component nutraceuticals. Data is sparse regarding its safety, and in September of this year the FDA ruled that picamilon does not fit any of the dietary ingredient categories in DSHEA, which resulted in the removal of this nutraceutical from various supplements manufactured in the US6.
Other Nutraceutical Options Are Available
In the event Senator McCaskill is successful in her bid to remove dietary supplement products containing vinpocetine and picamilon from store shelves, there are many nutraceutical alternatives available to brand owners with products containing either vinpocetine or picamilon.
One option that may stimulate blood flow in the same ways that certain studies have suggested vinpocetine can is Ginkgo Biloba extract — the granddaddy of all cerebral support nutraceuticals. Research has suggested that certain varieties of Ginkgo Biloba Leaf extract may improve circulation. Various scientific and medical journals have reviewed dozens and dozens of studies which suggest Ginkgo's effectiveness for improving memory and other cognitive functions7,8,9. Most of these studies used 120 to 240 mg of Ginkgo biloba extract daily10.
Those seeking an alternative to picamilon may want to consider one of its component nutraceuticals, GABA (Gamma-Aminobutyric Acid). Research suggests that supplementation with 100 mg GABA within 1 hour of its administration induced relaxation and diminished anxiety11. Other studies have shown similar results12. Such a mental state is conducive to being able to function more effectively from a cognitive standpoint.
References
http://www.nutraingredients-usa.com/Regulation/Sen-McCaskill-calls-for-vinpocetine-and-picamilon-supplements-to-be-pulled-from-shelves.
Cerebral effects of a single dose of intravenous vinpocetine in chronic stroke patients: a PET study. J Neuroimaging 1998;8:197-204.
The effect of a cerebral vasodilator, vinpocetine, on cerebral vascular resistance evaluated by the Doppler ultrasonic technique in patients with cerebrovascular diseases. Angiology 1995;46:53-8.
http://naturaldatabase.therapeuticresearch.com/nd/Search.aspx?cs=&s=ND&pt=100&id=175&fs=ND&searchid=54170265.
Picamilon pharmacokinetics in animals. Farmakologiia i toksikologiia. 1991;54(2):66-9. [In Russian]
https://blog.priceplow.com/wp-content/uploads/Picamilon-FDA_Ruling-20150928.pdf.
Ginkgo biloba leaf extract: review of biological actions and clinical applications. Antioxidants & redox signaling 1999; 1(4):469-80.
A review of herbal medicines for psychiatric disorders. Psychiatric services 2000; 51(9):1130-4.
Clinical improvement of memory and other cognitive functions by Ginkgo biloba: review of relevant literature. Advances in therapy 1998; 15(1):54-65.
The efficacy of Ginkgo biloba on cognitive function in Alzheimer disease. Archives of neurology 1998; 55(11):1409-15.
Relaxation and immunity enhancement effects of gamma-aminobutyric acid (GABA) administration in humans. Biofactors. 2006;26(3):201-8.
Oral intake of γ-aminobutyric acid affects mood and activities of central nervous system during stressed condition induced by mental tasks. Amino Acids. 2012 Sep;43(3):1331-7.
Psychological stress-reducing effect of chocolate enriched with gamma-aminobutyric acid (GABA) in humans: assessment of stress using heart rate variability and salivary chromogranin A. Int J Food Sci Nutr. 2009;60 Suppl 5:106-13.